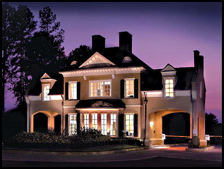 At Mikes Electrical Service we understand that residential electrical projects can be a challenging undertaking for a homeowner. Our technicians are fully trained and fully capable of developing solutions for even the most challenging project. Even if you're not sure what the problem is (it's just not working), our technicians are experts at discovering the problem, and providing the solution.
Residential electrical upgrades and improvements not only increase your homes safety, they also increase the value of your home. Mikes Electrical Service can take care of any electrical upgrades or improvements you need made to your house.
We also provide services for making home more efficient through the installation of new lighting fixtures such as LED and CFL lighting fixtures. In addition, Mikes Electrical Service is an expert at developing custom lighting design and installation. Whether its Recessed cans, track lights, outdoor landscape lighting, or security lighting your thinking of, Mike has you covered.